This summer I had the amazing opportunity to capture a castle wedding in Ireland, so we took that opportunity to take a short plane hop over to Zurich. As you probably know if you are following my travel journeys, Dylan and I are avid hikers and mountain lovers. The Matterhorn, being the most iconic mountain in the world, was of course high up on our list. After weeks of googling Matterhorn Hiking we finally mapped out the hikes we wanted to conquer.
Zurich was definitely a place where you get off the train and you feel like, "I am in Europe." English is not prominent here….and I don't know about you but German is SO HARD for me to understand. Never the less, its a gorgeous city. We had glorious 70 degree weather. We were only in Zurich for one night before we boarded the 3 hour train to Zermatt so we spent the day walking to Lake Zurich and enjoying some Gelato.


The water in the canal is an amazing clear see through blue because it comes directly from mountain runoff. It was so interesting to me that there were people swimming in it right in the middle of the city. Pictured behind me is Grossmünster, a Romanesque-style Protestant church. It is one of the four major historical churches in the city. Its congregation forms part of the Evangelical Reformed Church of the Canton of Zürich.


Onward to Zermatt! The first view we had from the train.


Pulling into Zermatt is basically like realizing you have been transported into a fairytale mountain chalet village from the Sound of Music.


Main Street as the call it was…..very busy. We were slightly shocked by the amount of crowds in such a small town. People from literally all over the world, so many languages. Switzerland hiking is world renowned.


Our first day in Zermatt the Matterhorn was completely covered in clouds and you couldn't see it. A local told us its very temperamental and there are only certain times of day where its totally visible. We went into complete panic mode, thinking, oh my gosh we came all the way here and what if we don't see it the entire trip? Regardless we were there to hike, so we set out on our first journey to Matterhorn Glacier Trail.
Quick note. Pros of Zermatt: its breathtaking. Cons: IT'S THE MOST EXPENSIVE PLACE I HAVE EVER BEEN. It costs $120 for 2 people to take the Gondola cars up to the mountain. What they don't tell you—is that is the only way you can reach the hiking trails without hiking directly from town up, which depending what route you take based on your level of fitness can be anywhere 18-40 miles…**stay tuned later for a hilarious story about how we ended up doing this….**

Day 1: Matterhorn Glacier Trail. 4 miles starting, 23 miles ending. Yes, that's right.
Matterhorn, meaning "peak in the meadows" in German. It's a 15,000-foot-tall mountain on the Swiss-Italian border and has long been a bucket list destination for climbers, hikers, and of course, us!
However– what we were most excited about is the fact that the Grinch is based off of this mountain! It's a long standing joke that Dylan is the "the Grinch" of our family so when we found out we could see where he really lives, we were of course going. We should have titled this trip, going to the Matterhorn where the Grinch lives.
A $120 dollar a day view? Honestly, its close.

Come out, come out!!
Can you spot me??
Here's the other quirk with Zermatt—the gondola lift cars STOP RUNNING at 4 pm! 4 pm!!! We didn't even think to check that because that wouldn't have even crossed our minds that they would stop taking people back down that early. It all worked out in the end but….
That meant we had a 19 mile hike back into Zermatt. We literally would be hiking from the base of the Matterhorn all the way back into town. The photo below is HALF way there, and you can see Zermatt below Dylan.
On our way down thought, it was epic views of winter wonderland mountains the entire way. We stopped at a bench to have a snack and to my surprise, my brand motto showed up right there on the bench. I knew it was meant to be that we missed the ride down.
Amazing right??
Can you image being a Switzerland wedding photographer, or having a couple that decided to elope at the Matterhorn? Imagine this as you turn around from looking at the Matterhorn in its glory.
Day 2: 5-Seenweg, 5 miles plus 10 off trail
The second day we were bound determined to see the Matterhorn so we woke up super early so we could be sure to make the Gondola ride back down this time. We planned to do the 5 lakes trail.
This trail did not disappoint, it rounded 5 gorgeous alpine lakes where you could see the Matterhorn reflection.
There she is!!


When we got to the third lake we realized there were a TON of people and it wasn't as enjoyable to be in the serenity of the mountains with screaming kids and loud groups. Zermatt can be a pretty popular place in the summer so that was expected, but we are more of the rugged type who don't like a lot of trail company. So we decided to venture off trail on our own.
One of the best things about Zermatt hiking is there are SO many trails, lots unrecorded but have a clear path, and almost all of them end back up in town if you know how to use a compass. Plus, their area map is probably one of the best I have seen. Multiple times we stopped in the middle of no where on an unmarked trail and were able to gauge our bearings from the map. All the colors as you can see some how or another come back into one in the bottom right Red, which is town.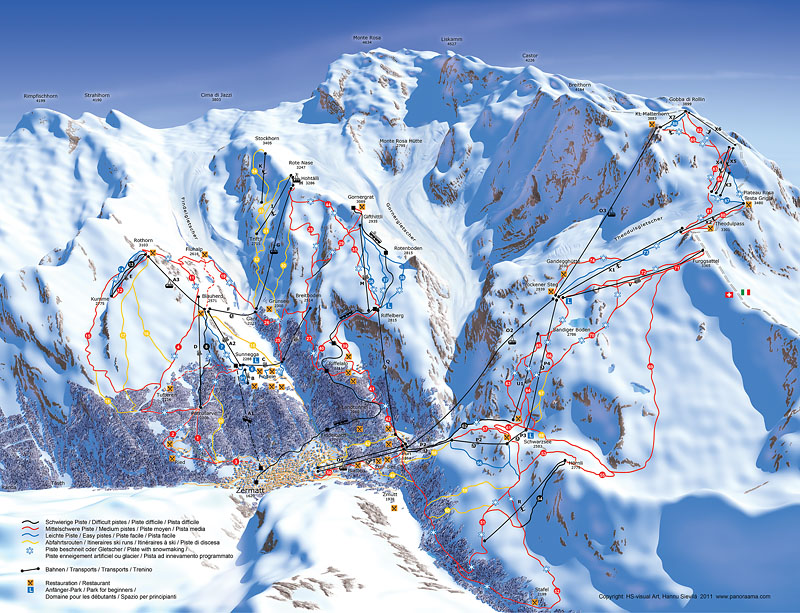 So here we go…


Getting our bearings again


Look at that reflection!


My favorite off the grid trail

Day 3: Rest day. We literally slept for 14 hours. Jet lag + extreme hiking
Day 4: Sunrise and alpenglow
Day 4 was obviously the most epic. Every trip we always do a sunrise hike to see the alpenglow on the mountains where we are. It's unlike anything else. We eloped at sunrise, so we made it a tradition. We decided to do this one the day after we slept all day, because there was a caveat with trying to see the Matterhorn up close at sunrise. My good ol friends the Gondolas don't start running in the morning until 7am. That means, if you want to get a good sunrise view of the Matterhorn, you have to hike from town. Just how early did we have to get up to hike 13 miles BEFORE 5am?? Sunrise starts at 5:40 there and alpenglow started creeping about 6. The answer was 1am. Its not an easy hike up the mountain from town regardless of what route you take, and that means it takes time to climb in altitude. We had hiked down already, but not up. We honestly were scared we wouldn't make it.
Anyway, 1 am we started out to the edge of town to catch a trail to Riffeltap clearing. Its the shortest hike we could map out that would have panorama views of Mrs.Matterhorn.
The only people out!! Here we go


2 hours in, we were dying. Turns out the trails in Switzerland don't mess around, they go STRAIGHT up. No switchbacks, just incline. Feel the burn.


WE MADE IT THOUGH!! Genuinely right in time. The sun had already started to rise to the west before we reached the summit clearing. When we got through the opening, it was the most glorious purple hue with the stars just barely still peaking through.



The colors change SO quickly in an alpine environment. The sky is NOT edited in either of these photos! The purple is already fading out behind the mountain as a cloud passes over the sun.


And for the grand finale….the alpenglow. Simply breathtaking. This is a long exposure so I could capture the stars still showing through.

We sat watching it fully cover the mountain, and that in itself was worth it.
By the time we were ready to head back down we were freezing, hungry, and delirious but it was comical. We had sweat so much going up that when we hit the alpine winds it was like being soaking wet in the snow! So our journey back continues…
I was so excited when we came across a herd of cows because we got to hear the well-known swiss cow bells! And man…there was a LOT of cows. It was like a symphony of bells!
In my current state, I guess I thought I would have a short conversation with Mr. Cow. Dylan found it amusing. I probably told him how cold I was.
We made it back down around 10am just in time for breakfast. By the end of the trip we had
hiked a collective 56.2 miles.